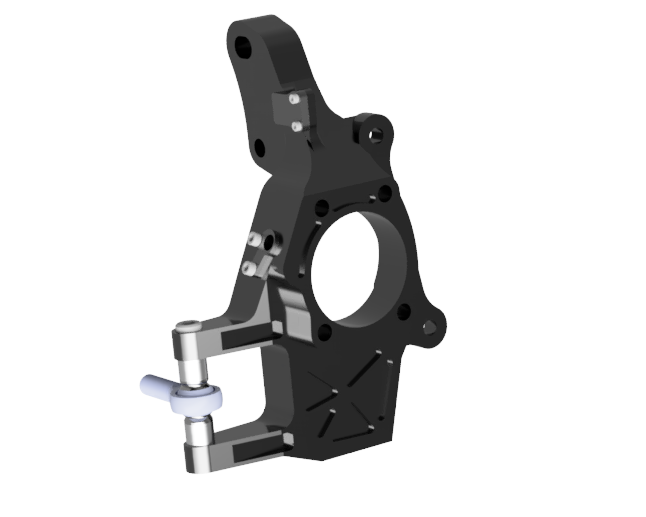 Suspension
sale
Full Spectrum Performance Billet Subaru Front Uprights
The Full Spectrum Performance Billet front Uprights include extended strut ear allowing for improved tire/spring clearance, IZZE_Racing IR temperature sensor mount (useful for keeping tabs on brake rotor temps on track), and the weight of the piece right at 6lbs (without hardware).
Roll center correction is now fixed at 1.98" compared to GD uprights and 1.77" compared to GV/GR uprights. The upright features double shear rod end mounting arms, and the unit allows for over 1.25" of bump steer adjustment. The upright also features a dual wheel speed sensor location with an adapter that allows the upright to be used interchangeably on the GD, GV/GR, and VA chassis model STI.
Features:
- machined from 7075 T651 aluminum, an alloy with better strength and weight properties than the OEM cast iron
- 6 pounds without hardware, a 44% reduction from the OEM GV piece and a 47% reduction from the GD unit
- GV/GR roll center correction is 1.77" compared to OEM
- GD roll center correction is 1.98" compared to OEM
- steering tie rod is mounted in a double shear configuration with over 1.25" of bump steer adjustment
- increased inboard clearance for wider wheels and tires
- included mount for IZZE Racing brake rotor temperature sensor
- OEM brake caliper compatibility
- OEM balljoint compatibility
- OEM 5x114.3 Subaru hub compatible
Note: An 18 inch wheel diameter is recommended when considering this kit as the increase in balljoint drop from hub bore and the extended rod end mount location could cause interference with certain wheel designs in diameters smaller than 18". To check this, the smallest diameter point of the wheel barrel inner diameter needs to exceed 15.5 inches diameter in order to properly clear these uprights.